READ Community Resource Center (RCRC)

Establishment of a facilitation and capacity-building center for rural disabled people
This building was constructed thanks to a grant awarded in March 2006 by the Japanese Government (under their "Grant Assistance to Grassroot Projects" program), with the goal to establish a full-fledged resource, facilitation and capacity-building center for disabled children and adults in the Andimadam area. Additional financial support for infrastructure was provided by Sahaya International. Construction took approximately 18 months. The center opened recently (click here to see pictures of the inauguration) and we are gradually starting and expanding our programs.
The building has facilities for all types of disabled persons to provide them opportunities in the areas of learning, training and rehabilitation, to help them live more independently……in other words, to make the 'disabled' into 'differently-abled" people.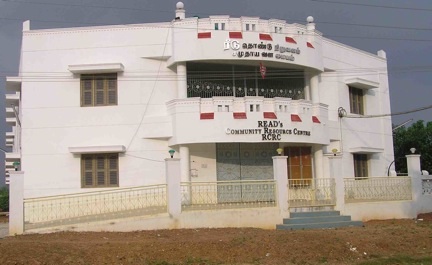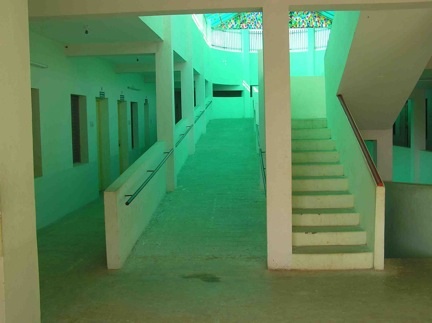 The center is currently equipped with:
a ramp for wheelchair access.
physiotherapy equipment
skill-training equipment on note-book production and book-binding
comfortable class rooms with suitable seating arrangements
residential facilities for disabled children from distant places
teaching materials
audio/video system
power generator in case of power failures from electricity
a van to transport disabled to the center and back home
well trained staff to achieve our above objective.
Components of the training center
Anbagam Special School for mentally challenged children (click here for more information)
Vocational training units
These units provide training on greeting card production, typewriting, computer-training, tailoring and book-binding (click here for more information).
Mini-Health Unit/Physiotherapy:
This unit is used for physiotherapy for physically disabled people. A physiotherapist works 2 days per week for a salary of $120 (Rs. 6,000) per month. We hope to employ her full-time, which would require $200 (Rs. 10,000) per month. If you like to sponsor her, contact us.
A nurse at this center provides simple medications and first aid are provided to the children of the Anbagam Special School that is held at this center. Nine children also receive physiotherapy.
Monitoring of height (every 6 months) and weight (monthly) of the children of our orphan sponsorship program and the Anbagam school.
The members of our network of people living with HIV also receive a check-up of height, weight, blood pressure, and body temperature. The staff appointed for this section looks over the activities; she is a widower who has lost her husband due to HIV/AIDS.
Counseling Room
The counseling room is planned to be used in the future for:
Individual Counseling
HIV/AIDS counseling
Disability counseling
Family counseling
Family, education & career guidance Center
There is currently not operating yet. The following ideas have been formulated:
Proper guidance to the Parents of the disabled children/HIV/AIDS infected persons
Guidance class for the students to make the right decisions on their career path.
Staff Accommodation Room
The building has staff accommodation room for some staff members working at READ. Usually five staffs are living here. At the time of review or training meetings, additional staff can stay here.
Training Hall
There are two training halls, with respective capacities of 25 and 30 people. All the training programs, monthly review meetings, sponsored children's meetings are conducted in these halls. The training halls are also used by other local organizations to conduct their trainings.
Kitchen & Dining Hall
The dining hall can accommodate 25 persons at a time, and is useful especially at the time of meetings and trainings conducted in the center. It is also used by the staff that lives in the building.
Library
with reference materials for the staff and also books that are used for our school programs and the orphan sponsorship programs.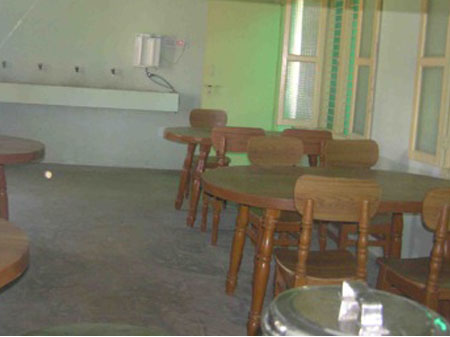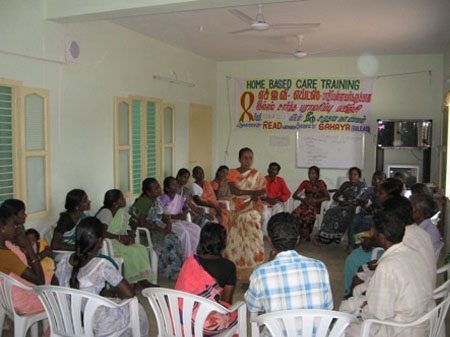 Expected number of disabled people who benefit directly from these programs
This center currently has 25 mentally challenged children through its Anbagam Special School.
It can also provide training in note-book production and book-binding to 30 physically handicapped and hearing impaired adolescents per year.
It is expected to benefit approximately 200 persons of different disabilities per year, by means of disability level assessment, personal counseling, and medical support.
In addition, the parents of the disabled beneficiaries will get guidelines and training on handling disabled people at home.
Because the RCRC has also other vocational training units (click here) and its training halls and service departments are used to provide services to also many other (i.e. non-disabled) person, this center's role as a community resource center will continue to grow in the coming years.
Wide advertisement is already being made to encourage the public in the area to make use of our facilities and services. As we hope to expand our programs and services, we welcome any monetary or in-kind contributions.
Join our mission to improve the child feature
Contact Us
1926 Sakthi Vinayagar Street Vilandai, Andimadam 621-801.
+91-4331-296483.
+91-94431-47164.
readselvam@gmail.com.