Mother Teresa School of Periyakrishnapuram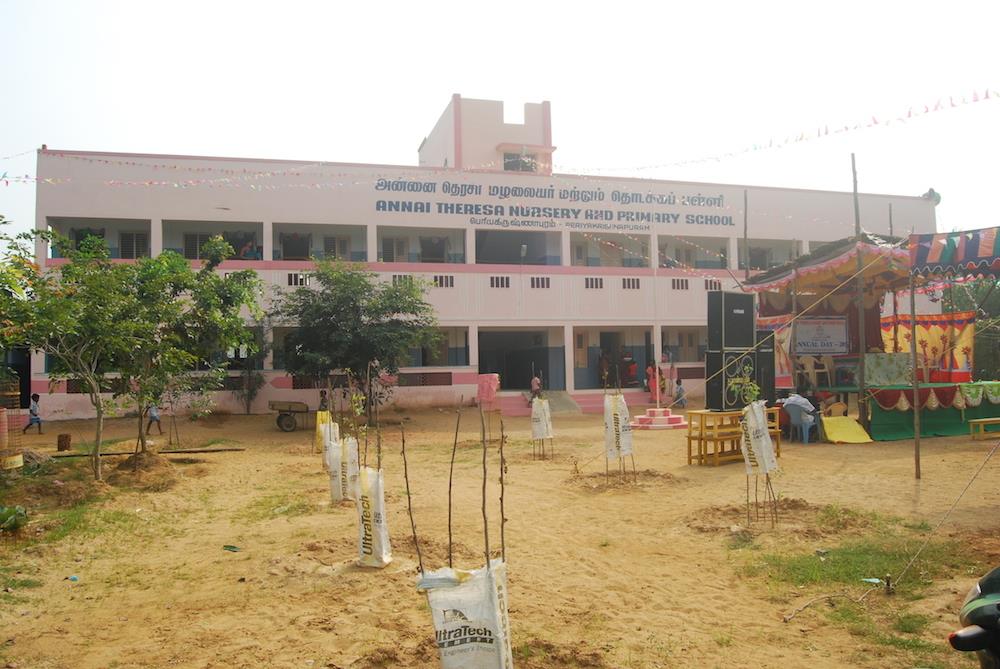 We did it! We completed the 2nd level of the Mother Teresa School
We are delighted that after several years of fundraising – with BIG THANKS to so many of you for your contributions and volunteering efforts – we completed the 2nd level of the Mother Teresa School.
The 2nd level was inaugurated on January 9, 2015. This big celebration was held together with the school's annual day, in which many children performed.
We thank everyone who made this possible!

Background and History on the Mother Teresa School

The first English medium school was opened in 1997 in the villages of Periyakrishnapuram and in 1998 in Thirukalapur. The school was started without basic infrastructure. In the beginning, the school was operating in a small rented house.
Rural areas lack standard, good-quality education. For this purpose, READ started several schools. Two of them, the Mother Teresa School of Periyakrishnapuram was started in 1997 with 9 children. A second school, the Mother Teresa School of Thirukalapur was started in 1998 with 28 children.
As the number of students grew every year, it was clear that a rented house was no longer going to be sufficient. Sahaya International decided to raise funds for the construction of a new school and for the purchase of a piece of land. In December 2008, the new one-story building was inaugurated. In July 2008, the school was recognized by the government of Tamil Nadu.
The Mother Teresa School of Periyakrishnapuram was previously run in a small classroom with a thatched leaf roof. These children come from underprivileged communities. It grew rapidly to approximately 90 children, and so it was decided that more room was URGENTLY needed.
Since 2005, Sahaya International has been raising the money to construct a much-needed school building in the village. First we purchased a piece of land (approx. 28,000 sq ft; 2,664 sq meter). The total price (which was affected severely by the declining value of the US dollar!) to construct the building with neighboring toilet facilities was approximately $40,000.
To reach our goal, Sahaya International had organized 2 successful cultural evenings on June 3, 2006 and June 9, 2007 in Davis. On Saturday June 9, 2007, the Gospel Justice Committee of the St. James Parish (Davis) and Sahaya International held an Evening of Indian dining at the St. James Memorial Center (1275 B Street, Davis). The evenings included a slide show and a full-course Indian Dinner prepared by Mary Philip and Susie O'Bryant and their team of volunteers, who have a big reputation throughout Northern California for their excellent Indian cuisine. In addition, contributions made by our many friends and well-wishers raised the remaining money.
To accommodate the growing number of students, it was soon clear that a 2nd floor was needed. Also this time, Sahaya International (USA and Belgium) spearheaded the fundraising campaign. In 2015 the 2nd floor was inaugurated. One of the new classrooms was converted into a computer lab and smart class.
On December 22, 2008, the new school was inaugurated in the presence of Dr. Koen Van Rompay and supporters from Belgium.
Thanks to continued fundraising by Sahaya International (USA, Belgium and Netherlands) and grants from donor agencies, additional infrastructure and equipment was installed, such as furniture (desks, benches, storage cabinets), and improved toilet facilities.
In recent years, the enrollment of the school has been relatively steady at approximately 200 students.
Aims of the school:
To provide poor and needy children of underprivileged rural communities with quality English-medium education, including science and technology.
To make parents and guardians aware of the importance of educating their children to improve their chances for a productive future and break the cycle of poverty.
Our classes are kindergarten (lower and upper kindergarten) and standards 1 through 5.
The medium of instruction is English.
The school has grow in attendance:
2008-2009

2009-2010

2010-2011

2011-2012

Class Level

Boys

Girls

Total

Boys

Girls

Total

Boys

Girls

Total

Boys

Girls

Total

LKG (Lower Kindergarten)

21

13

34

25

21

46

19

7

26

24

7

31

UKG (Upper Kindergarten)

15

13

28

18

14

32

19

15

34

21

10

31

I

15

8

23

18

9

27

18

10

28

15

12

27

II

4

7

11

13

8

21

16

7

23

17

10

27

III

8

4

12

5

9

14

11

7

18

14

6

20

IV

3

5

8

8

4

12

6

8

14

9

5

14

V

5

4

9

2

3

5

7

3

10

4

8

12

Total

71

54

125

89

68

157

96

57

153

104

58

162
2012-2013

2013-2014

2014-2015

2015-2016

Class Level

Boys

Girls

Total

Boys

Girls

Total

Boys

Girls

Total

Boys

Girls

Total

LKG (Lower Kindergarten)

15

10

25

21

11

32

12

12

24

19

11

30

UKG (Upper Kindergarten)

26

17

43

12

8

20

26

12

38

17

14

31

I

16

10

26

20

9

29

9

6

15

25

10

35

II

12

10

22

11

8

19

17

8

25

11

6

17

III

14

9

23

9

7

16

6

7

13

15

8

23

IV

13

6

19

9

7

16

8

6

14

6

7

13

V

10

4

14

8

3

11

8

7

15

8

4

12

Total

106

66

172

90

53

143

86

58

144

101

60

161
Functions and celebrations:
The festivals are celebrated every year to commemorate the sacrifices of our national leaders.
Kamarajar's birthday is celebrated on 15th July in particular, as a day of educational development. Jawaharlal Nehru's birthday is celebrated on 14 November as children's day. On 5th September Dr. Radhakrishnan's birthday is celebrated as a teacher's day celebration every year.
Each year, Ayuthapooja, Christmas and Pongal festival is celebrated with great emphasis on religious reconciliation and tolerance.
Specialty of the School :
Computer:
Our school has a computer lab with a projector to teach computer lessons to the students. All the students are given training on how to use the computer. Local Students can also receive computer training during the summer vacation.
Communicative English:
In the current world, being able to communicate in English is a very important skill, as it helps the students with many opportunities in the future for their work as well as personal life. Therefore, we have appointed a teacher for spoken English to help the students become more proficient.
Library:
The school has a library with more than 800 books that students can access to learn more about a variety of topics, including children stories, science, and history.
Yoga and psychological support:
To help the students with a fresh and focused mind and body, we sometimes offer yoga classes and other psychological support programs. Students also participate in an annual sports day.
Health, Health Education and Coding Curriculum:
Every month, the READ health nurse visits the school and check the height and weight of every student. If she finds any problem, she suggests to the parents and students to visit a doctor. From 2016 onwards, a group of students from the UC-Davis chapter of Project have come to READ to implement a health and hygiene curriculum for the students and provide training to the teachers on how to continue this afterwards.
The project RISHI students have also been teaching additional computer technology skills, including coding.
Environment of the School:
Each classroom is spacious and well ventilated so that students can study in good conditions. Moreover, clean drinking water (from a deep borewell) and access to clean restrooms and handwashing stations promotes good hygiene and health. The playground of the school also has several play structures.
Conclusion:
The Annai Theresa Nursery and Primary School has evolved from a tiny school to a full-fledged school providing students with quality English-medium. The broad foundation sets the students up to excel in the future.
Many of our previous students have successfully gone to college and are now having a financially stable life. We invite you to join hands in supporting this school and giving education and a better future to many children.
But we still need your help! Your contributions will go towards infrastructure:
better books
educational materials including science objects
book cases and cabinets to store materials
art supplies
a few computers
Please become a sponsor and help provide these children with a better future. If you give us your e-mail address, we will keep you updated with short stories and pictures.
If you are living in the USA and like to make a donation through Sahaya International, go to our donation page.
If you live in Europe, go to this donation page.
Join our mission to improve the child feature
Contact Us
1926 Sakthi Vinayagar Street Vilandai, Andimadam 621-801.
+91-4331-296483.
+91-94431-47164.
readselvam@gmail.com.