Jawahar Nursery and Primary School

The Jawahar Nursery and Primary School was established in 1990 in Andimadam with the help and support of Mr. Selvam. Since 2003, the school became fully under the operational wings of READ.
Until 2009, the school operated in a rented building, which was in bad condition as the walls and roof were slowly falling apart. The owner had decided to sell the property and demolish the school building and sell the land for further development. Sahaya International (USA) and Sahaya.eu (Belgium) raised funds from their supporters (including the school of KA Ekeren in Belgium) to build a new 2-story school building that was officially inaugurated in January 2010.
When the new school year started mid-June 2009, classes shifted from the old building to a new one.
The total number of children has increased from 65 students to 250 children!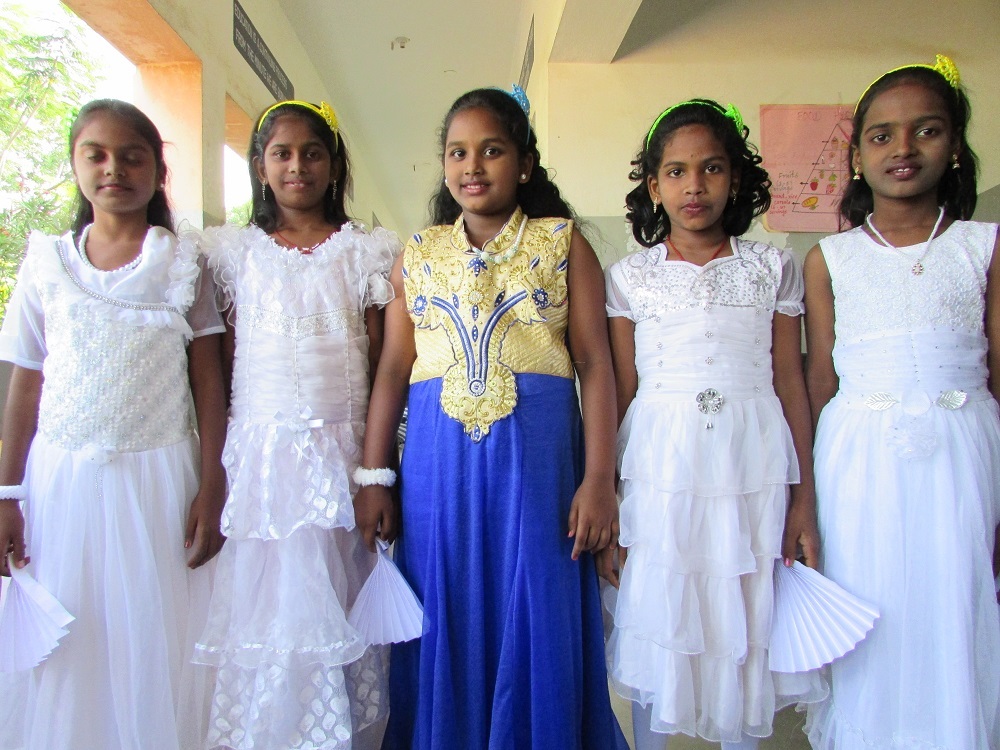 Our current goal: Improving the infrastructure and providing top-quality education
You can help us!
Thanks to many generous donations, we have now raised sufficient funds for desks and benches. Local carpenters are now busy making them and a first delivery has already been made. The pictures below show how they look like.
Now we are raising funds for educational materials (a television with DVD player, books, science objects, art supplies) and other furniture (book cases, cabinets, etc) to store such materials safely in the classrooms. Can you help us? Then please consider making a contribution.
This is an example of a set of the desks and benches that local carpenters are making. The price per set is approx. $100. Each set can accommodate 4 children, so the price comes to $25 per child.
Brief History of the Jawahar Matriculation School:
  There is a big need for quality education in rural areas for children who cannot afford the expensive private schools. Therefore, Mr. Selvam (founder of READ) and a friend started in 1990 the The Jawahar Matriculation School of Andimadam. In 2003, this school became fully under the wings of READ.
  In 2005, the school had 50 students and 6 teachers. In the school year of 2008-2009, there were 65 children with 7 teachers and one aya (helper).
  Since the school moved into the new building at the start of the 2009 school year, the number of students has increased rapidly and in July 2010, is now 164 students. The school has currently 12 teachers.
  Over the years, the school has gradually grown in enrollment. The school classes range from kindergarten (lower and upper kindergarten) and from 1st to 5th standard. There are currently 177 students, ten teachers, two school bus drivers and two helpers.
2008-2009

2009-2010

2010-2011

2011-2012

Class Level

Boys

Girls

Total

Boys

Girls

Total

Boys

Girls

Total

Boys

Girls

Total

LKG (Lower Kindergarten)

6

6

12

21

17

38

31

14

45

23

10

33

UKG (Upper Kindergarten)

13

5

18

10

10

20

28

17

45

33

15

48

I

7

4

11

16

7

23

15

9

24

29

16

45

II

8

4

12

5

5

10

13

7

20

11

9

20

III

3

–

3

6

2

8

4

7

11

14

7

21

IV

2

3

5

5

–

5

4

1

5

6

8

14

V

1

3

4

3

3

6

5

–

5

2

0

2

VI

–

–

–

1

3

4

4

2

6

–

–

–

VII

–

–

–

–

–

–

3

3

–

–

–

Total

40

25

65

47

67

114

104

60

164

118

65

183
2012-2013

2013-2014

2014-2015

2015-2016

Class Level

Boys

Girls

Total

Boys

Girls

Total

Boys

Girls

Total

Boys

Girls

Total

LKG (Lower Kindergarten)

32

19

51

22

16

38

24

8

32

32

18

50

UKG (Upper Kindergarten)

33

25

58

25

17

42

17

13

30

19

8

27

I

31

15

46

22

16

38

21

10

31

18

13

31

II

29

13

42

25

5

30

14

11

25

17

12

29

III

10

9

19

14

10

25

13

4

17

13

11

24

IV

12

7

19

8

6

14

10

6

16

14

3

17

V

6

9

15

9

6

15

6

6

12

10

7

17

Total

153

97

250

125

76

201

105

58

163

123

72

195
In the past years, the school operated in a rented building, which was in bad condition as the walls and roof were slowly falling apart (see pictures below). The owner had decided to sell the property and demolish the school building and sell the land for further development.
These children needed a new school building….so in 2007, when we had raised most of the money for the construction of the Mother Teresa School, READ and Sahaya International decided that we would build a second school!
Aims of the school
To provide poor and needy children of underprivileged rural communities with quality English-medium education, including science and technology.
To make parents and guardians aware of the importance of educating their children to improve their chances for a productive future and break the cycle of poverty.
Our classes are kindergarten (lower and upper kindergarten) and standards 1 through 5.
The medium of instruction is English.
Fundraising efforts since 2007:
Sahaya's secretary Koen Van Rompay donated the money to buy the piece of land.
The total price to construct a two-storey school building was approximately $75,000. The Koninklijk Atheneum school in Ekeren (Belgium) has raised most of the money to construct this much-needed school building in the village. Click here to learn more about the ongoing fundraising events of this school. We are also very grateful to several other schools in the Antwerp region and many other contributors who have been assisting us with their donations and efforts.
Volunteers of Sahaya International in the USA has also assisted in the fundraising efforts.
In June 2008, several friends, including Sahaya board member Ramin Yazdani, Lauren Vaage and Sahaya founder Koen Van Rompay climbed Mount Shasta in California to raise money for the Jawahar school. They looked for sponsorship. For more information on their climb, visit the Mount Shasta adventure update, Ramin's home page or Koen's home page.
In 2009 we raised all the money to complete the construction! The school has moved to the new building in June 2009.
Scholarships are being provided to the most disadvantaged and deprived parents of our school. Some of the neediest students are part of READ/Sahaya's sponsorship program (insert link). In addition, 43 students are benefiting from the government funded program of "Right To Education" (RTE). Every year there is scholarship assistance available from the Government for some students of the backward caste.
Feasts:
The festivals are celebrated every year to commemorate the sacrifices of our national leaders.
A new method of teaching will be provided in the school for the children, including computer training, hindi and yoga. In addition, the children also participate in cultural performances on special celebrations (Independence Day, Children's Day, Teacher's Day, Republic Day) and receive a certificate for it.
Kamarajar's birthday is celebrated on 15th July in particular, as a day of educational development. Jawaharlal Nehru's birthday is celebrated on 14 November as children's day. On 5th September Dr. Radhakrishnan's birthday is celebrated as a teacher's day celebration every year.
Each year, Ayuthapooja, Christmas and Pongal festivals are celebrated with great emphasis on religious reconciliation and tolerance.
But we still need your help, because now our next goal is to raise money for infrastructure:
desks
chairs
better books
educational materials
book cases
objects for a science classroom
Additional Training & visiting teachers/students:
In order to continuously improve the skills of the teachers, additional trainings are offered, sometimes by visiting teachers or students from abroad. Examples in recent years are a special training by the Pipal Tree Training Institute of Bangalore, and the Devi group from Singapore (which gave training on topics such as the food pyramid and first aid).
Since 2018, groups of 2 to 3 teacher training students from the Thomas More College in Belgium have been attending our schools for 3 months, as part of their teacher training course requirements. In addition to learning from our school teachers, they also introduce new methods and materials into our school curriculum.
Environment of the School
Each classroom is spacious and well ventilated so that students can study in good conditions. Moreover, clean drinking water (from a deep borewell) and access to clean restrooms and handwashing stations promotes good hygiene and health. The playground of the school also has several play structures.
The school has a library with approximately 1500 children books. There is also a classroom with laptop and projector. Students have also access to the computer center at the adjacent READ Community Resource Center.
Conclusion:
The Jawahar Nursery and Primary School has evolved from a tiny school to a full-fledged school providing students with quality English-medium. The broad foundation sets the students up to excel in the future.
Many of our previous students have successfully gone to college and are now having a financially stable life. We invite you to join hands in supporting this school and giving education and a better future to many children.
Please continue and join our efforts to give these children the best possible education. To make a donation, go to our donation page (click here).
Join our mission to improve the child feature
Contact Us
1926 Sakthi Vinayagar Street Vilandai, Andimadam 621-801.
+91-4331-296483.
+91-94431-47164.
readselvam@gmail.com.