Community Development through Self-Help groups

The need for Self-Help Groups:
More than 60,000 women spread in 2 Blocks of Ariyalur District belong to the 'Below poverty line' category (ie. their annual income is less than Rs. 24000 (=$500)). These women are from different caste groups such as Scheduled Caste (SC), Scheduled Tribes (ST), most backward Caste (MBC) backward caste (BC) and minority groups (Muslims).
Most of them are illiterates/semi-literates. Only 15 percent of this population own economic assets, such as weaving looms, cows and goats, or a petty shop business.
If they need money, they cannot go to a bank to get a loan, so often their only choice is to get a loan from a local money-lender, who usually charges outrages interest rates (sometimes more than 100%!). Often such debts cannot be paid off in time, and the individual or the family gets in deeper poverty, and sometimes leads to suicide. The situation is especially poor for women, because they have often little or no economic status, and especially when their husband is working elsewhere, they have to face severe financial hardship.
Occupation-wise they are landless laborers, agricultural laborers, construction workers, weavers and contract weavers and daily wage labor (coolie workers). The job availability in the agricultural sectors is roughly for 3-4 months a year and the rest of the period they travel usually to nearby areas for coolie work. They try to support their families with their little income.
These women and men can be organized into Self-Help Groups (SHG). The goal of this program is to promote savings- and credit activities, and to promote micro-enterprise development. This can lead to a strong and permanent improvement of their socio-economic conditions in a number of ways:
Initiation of savings and credit activities, and promotion of income generating programs in these self-help groups will bring more economic development and independence to these women and their families. Because of the better welfare of these families, more children will be able to attend school instead of being forced into agricultural child labor.
For the first time in their life, these disadvantaged rural women and men become organized into groups. The formation of these self-help groups will facilitate discussion of many issues pertaining to their socio-economic, educational and health status. Thus, the formation of this group provides a forum to initiate many participatory activities (including training and awareness camps).
This process will also lead to increased confidence and social status, especially for women, in their communities. This will encourage these women to participate and contribute in general social and political matters in their respective villages, including women's rights. Examples include the use of these women as HIV peer educators in our HIV programs (Perambalur Education and Prevention Program).
The history and formation of the self-help groups at READ:
In 1997, READ was the first organization in its area to introduce the concept of women self-help groups, and 5 women self-help groups were formed in Andimadam Block of Ariyalur District (in the villages of Periyakrishnapuram, Thanjavooranchavai, Vilandai, Vilandai Colony and Keelnaduvai).
Since then, the program has expanded a lot. With financial support from the Mahalir Thittam project of the Tamilnadu Corporation for the Development of Women Ltd., (TNCDW), The Council for Advancement of People`s Action and Rural Technology (CAPART) and Sahaya International, READ has currently organized more than 1300 groups, each with 10-15 members.
READ's SHG program currently covers three blocks in two districts (Ariyalur and Cuddalore district). To operate these programs, READ has extablished four branch offices (Andimadam, Sendurai, Variyangkaval and Srimushunam)
The READ staffs gave basic training to each of the Self-Help Groups on a variety of topics:
Rules and regulations of SHG
Animators training
Accounts training
Leadership development Training
Capacity building training
Entrepreneurs Training
Self employment Training
Number of SHG per branch office (2009)

Location

Andimadam

Sendurai

Variyangakaval

Srimushunam

Total

Number of SHG

447

524

320

15

1,306

Number of SHG that have been issued a loan

115

156

79

–

350
Self-help groups and micro-enterprise development:
After the training, the SHG members started micro-savings and credit activities, as each member was asked to contribute at least Rs. 50 per month (~ 1 dollar), which could then be used for internal micro-loans (i.e., to members within the same group). Loans are used for a variety of purposes including micro-income generating activities. Examples are the purchase of bullocks, sheep, poultry, goats and sewing machines. The women repay the money in monthly installments with interest, so that the money in the revolving fund can be used continuously.
Because the amount of money that SHG members of a newly formed group can save each month is very small, it became very clear early on that there was a need for additional funding from external sources to increase the amount of money that would be available for micro-loans. For the first 5 groups that READ has formed, READ was soon able to mobilize a revolving fund from the DWCRA (Development of Women and Children in Rural Areas) agency, for a total amount of 600 US dollars per group to expand the credit activities which they had already formed from their own savings.
Since then, READ has started a larger micro-financing program that is currently providing loans to many SHG and their members.
Some of the SHG groups utilized their skills and the loan to develop group activities. Examples are:
| | | |
| --- | --- | --- |
| SHG Name | Village | Activity |
| Roja | Manapathur | Soap- making |
| Sivasakthi | Andimadam | Soap- making |
| Suthanthiram | Thavasukuzhi | Cashew –nut processing |
| Senbakam | Koovathur | Candle making |
| Arokia Annai | Netalakurchi | Covering chain making |
| Mangaiyarkarasi | Nallampalayam | Weaving |
Recent training activities:
Beautician Training
A fifteen-days beautician training was conducted to 90 self group members (3 batches of 30 women) at READ's community resource centre. The members were provided with a certificate for the completion of the course.
NABARD training program
A 13-days micro-enterprise development program for mature SHG was conducted at READ's community resource centre through NABARD. A total of 90 women (3 batches of 30) participated in the training. Each group was selected based on their qualifications and interests. The program included the following trainings:
Hand made greeting card training
Cashew nut Processing Training
Computer Training
Insurance:
Insurance is one of our regular programs. This year, Rs. 575,000 of death claims was given to 55 insured persons (Andimadam: 45; Sendurai: 6; Variyankaval: 1; Srimushunam: 3).
| | | | |
| --- | --- | --- | --- |
| Block | Claim applications submitted and received from insurance agency | Funded by READ | Claim amount |
| Andimadam | 42 | 3 | Rs 495,000 |
| Sendurai | 3 | 3 | Rs 45,000 |
| Variyangakaval | 1 | – | Rs 30,000 |
| Srimushnam | 2 | 1 | Rs 5,000 |
| Total | 48 | 7 | Rs 575,500 |
Future Plans:
Have more women join and start SHG and improve their economic activity
To better serve low-income households for women in rural areas.
Link all women SHG with the micro-finance program to establishing stable livelihoods and improve their quality of life
Health insurance for more SHG members
Pension scheme for SHG members
Further linkage of SHG members with all the activities of READ
Support our self-help group programs:
Click here to learn how you can contribute to these programs. We appreciated your help to develop and empower these communities.
Case stories of self-help group members

Kolanchiammal
Before Kolanchiammal got involved with a self-help group, her family suffered a lot from money lenders and it was very difficult for her to maintain her family. She came to know about the importance of Self Help Groups and made herself a member in the Vanavil Self-help Group which is being looked after by READ. After getting a loan from READ, she bought four goats and takes care of them well. Now she is having a habit of saving the amount for future use. Thus the total family benefited from this. One of the goats has yielded two offspring.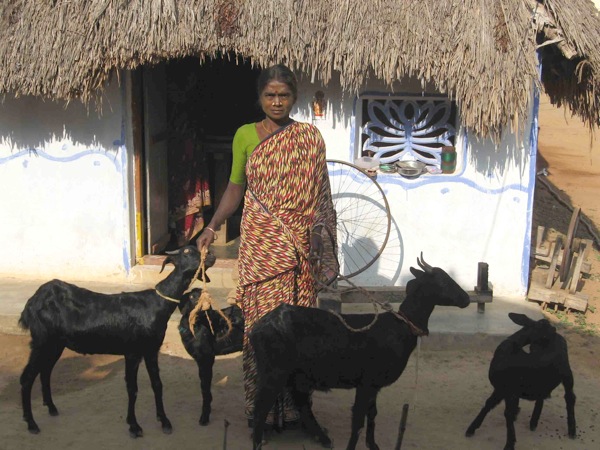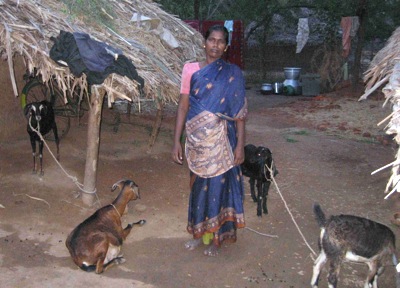 Sumathy
Sumathy (35 years old) belongs to a very poor family, and for a living she does agricultural day labor. But this work is not continuous and depends on the season. The amount earned by her and her husband was barely enough to cover their basic needs, and there was never any amount for them to save.
Previously she was ignorant about the importance and benefits of self-help groups. But through regular visits of the READ staff and the awareness given by them, she became convinced to join in the Bairavi self help group. Through the monthly meetings, she learned more how the self-help group functions and also the importance of savings.
Early 2009, Sumathy received recently a loan amount of Rs. 5000 from READ. With that amount she bought four goats and raised them well.
Later in 2009, she sold her four goats in the market and from that amount, she bought a cow which gives 7 liters of milk per day (Morning – 4 liter, Evening – 3 liter). She sells the milk to her neighbors and the rest to the milk society. Oher than this she goes for daily labor work in agriculture. She is satisfied with her income. The cow is also going to yield a calf within four months. she is taking care of the cow in a good manner. She makes the cow to graze in the field whenever she goes for her agriculture work.
Join our mission to improve the child feature
Contact Us
1926 Sakthi Vinayagar Street Vilandai, Andimadam 621-801.
+91-4331-296483.
+91-94431-47164.
readselvam@gmail.com.